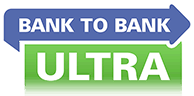 Xoom Introduces
Bank-to-Bank ULTRA.
A new level of service that confirms bank deposits in less than one hour!
Dear Customers,
When you use Xoom to send money to a bank account in another country, you can always expect great service from Xoom and our partner banks - convenient and fast deposits with guaranteed exchange rates and no fees ever charged to the recipient.
While all of Xoom's bank deposit services are excellent, some are so fast that they feel almost magical. At Xoom, we call these services Bank-to-Bank ULTRA.
What does Bank-to-Bank ULTRA mean for you?
▪

Money is deposited and available for withdrawal in less than one hour during partner bank processing hours

▪

Confirmation of deposit sent via email

▪

If your Xoom ULTRA deposit takes more than one (1) hour*, you can request a coupon for the value of the service fee on your next transfer

▪

No additional fees
Below are the countries and banks where Xoom's Bank-to-Bank ULTRA services are available. We've also included 'Honorable Mentions' - bank deposit services that don't quite meet the ULTRA criteria yet, but are worth highlighting.
Sincerely,
John Kunze
President and CEO